Aquinas High School
Class of 1978
<<<< Click the "40th Reunion" button
Registration Deadline
is June 30th
for our 40th Class Reunion on July 14th!
As of Saturday, June 23rd: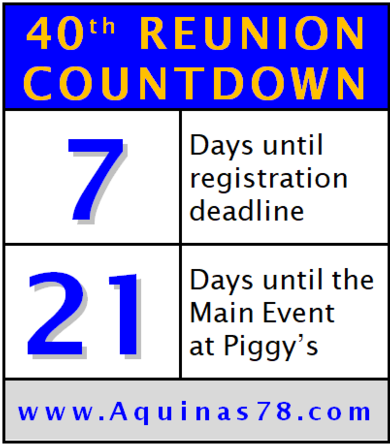 Click the "Donate" button >>>>
or add a donation when completing the registration process
to be a Personal or Corporate
Sponsor of the Reunion
All sponsors will be recognized in collateral materials at the reunion.
Click the Reunion Sponsors button on the left to see a
current list of our financial and in-kind supporters.
* * * * * * * * * * * * * * *
An "In Memoriam" Request:
As you all know, we've lost a few friends too soon through the years since graduation. Some, we knew better than others, but none did we know as well as their loved ones did. So, to those left behind, when your hearts are up to it, to please forward me some photos and life details so we can incorporate them into remembrances.
Please send this information via e-mail to hinkle.sue@gmail.com.
With my thanks and condolences,
Sue (Schmidt) Hinkle