Aquinas High School - LaCrosse, WI
Class of 1978
In Memory
Jeffrey Murphy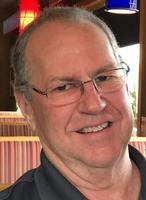 From Sue Murphy Bartel via Facebook on Wednesday, October 24, 2018:
...my beloved brother, Jeff, took his flight to Heaven this evening and is finally rid of that vicious cancer! He was such a gentle soul and I miss him already! Love you Jeff!!

https://www.legacy.com/obituaries/name/jeffrey-murphy-obituary?pid=190582521
Jeffrey Thomas Murphy
Onalaska, Wisconsin
Feb 16, 1960 – Oct 24, 2018 (Age 58)
Jeffrey was born on February 16, 1960 and passed away on Wednesday, October 24, 2018. Jeffrey was a resident of Wisconsin at the time of passing. He was a 1978 graduate of La Crosse Aquinas High School and later went on to graduate from the University of Wisconsin-Eau Claire. Jeff spent the last twenty years as an Independent Contract Driver for Dunham Express, Corporate Courier and Capital Express in Eau Claire, Wisconsin.
A Mass of Christian Burial will be at 10:30 a.m. Saturday, November 3, at Mary, Mother of the Church, 2006 Weston St., La Crosse. Visitation will be from 9:30 a.m. until the time of Mass at the church. In lieu of flowers, memorials to the Aquinas Patricia M. Murphy Excellence in Nursing Scholarship, Children's Miracle Network Hospitals at Gunderson Foundation or a personal fund of your choice are requested.