Aquinas High School - LaCrosse, WI
Class of 1978
In Memory
Debra Peshak (Schlegel)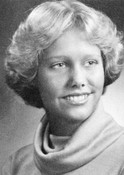 http://lacrossetribune.com/lifestyles/announcements/obituaries/article_e78fe407-7a46-59c5-b89b-a06678d0d2a6.html

Obituaries for Sunday, Oct. 26, 2008
Debra A. (Peshak) Schlegel
Debra A. (Peshak) Schlegel, 48, of La Crosse passed away at her home Friday, Oct. 24, 2008. She was born in La Crosse on Nov. 29, 1959, to Robert J. and Ruth A. (Lee) Peshak. Debra married Randy Schlegel at Blessed Sacrament Catholic Church in La Crosse on June 19, 1981, and they later divorced. She graduated cum laude from Viterbo University with a double major in psychiatry and nursing. After graduation, she worked for a few years as a nurse at Gundersen Lutheran Medical Center.
In addition to her parents of La Crosse, she is survived by one sister Susan (Douglas) Miller of Waterloo, Wis., one brother Daniel Peshak of Lewisville, Texas, her nieces Kristin Miller of Plover, Wis., and Laura Miller of Minneapolis, Minn., and nephew Curtis (Stephanie) Miller of Monroe, Wis. She was preceded in death by her paternal and maternal grandparents.
A Mass of Christian Burial will be held at 10:30 a.m. Monday at Blessed Sacrament Catholic Church in La Crosse. The Rev. David Olson will officiate. Burial will follow in Catholic Cemetery, La Crosse. Friends may call from 9:30 a.m. Monday until the time of services at the church. In lieu of flowers, memorials may be given to the Viterbo nursing program. Schumacher-Kish Funeral Home of La Crosse is in charge of arrangements. Online condolences may be offered at www.schumacher-kish.com.